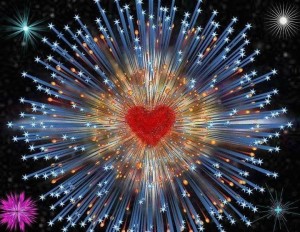 This article draws on the Bible and another source of revelation that I have come to appreciate as far as exploring the nature of God.
God is Soul, composed of His greatest attribute, Divine Love, which is His very nature and essence, followed by mercy, goodness, power, omniscience, and will (1 John 4:8, 16(1); Psalm 116:12; Deut. 4:31; Eph. 2:4-5(2)).  The mind, so much worshipped by humankind, is only one aspect of His Being. God as Soul is far more than the sum of all His attributes.
God's attributes radiate from His great Soul and flood the universe. So, when people say they live and have their being in God (Acts 17:28), they are technically in error, but they do live and have their being in the divine attributes that emanate from God and that He has placed in their human soul. God has a place in the Celestial Heavens, but His attributes are everywhere and fill the whole universe, or multiple universes that scientists postulate might exist. The earth is a tiny portion of the entire universe. Even the "heaven" or spirit world where humans go when they die is a subset of the entirety of Creation (Psalm 47:8(3); 53:2; 139:7-13(4))
Although God has no form or shape such as He gives to humans on incarnation, nor a spirit body such as that manifested by humans after their physical death, God does possess a Soul form. However, He cannot be seen with the physical or spiritual sight, but can only be perceived with the soul's eyes opened by the influence of the Divine Love. God's form, or its divine attributes, becomes more clearly perceptible to the human soul as it comes into a closer rapport with God. This happens as a result of its development and transformation through the Divine Love (Matt. 5:8; John 3:3; 1 John 3:1-2 (5)).
While God is Soul, alone and unique in its oneness, and while He has no material or spirit body, He has personality – divine personality manifesting His Love, kindness and solicitude for all His creatures. God is a God of Love, above all else. He is not a God of hatred, nor does He chastise His children in wrath or anger. His love is for all humanity, be they saints or sinners, and no one suffers punishment because the Father wants them to suffer. He is a God of mercy and forgiveness, and will forgive the sins of those who in sincerity ask Him (Isa. 55:7(6)).
God, then, is not a cold intellect, an abstract mind, or an indifferent and unfeeling force, but rather a personal, warm and loving Father / Mother, eager for the happiness of His children, regardless of their race, colour or creed. The real truth and understanding of God is beyond the comprehension of the finite mind, and can only be accepted as a realization of an existing truth by means of faith.
No one has ever seen God, for God cannot be seen as described in some of the Bible stories. God generally works through His angels (Heb. 1:14), rather than directly. So His angels and messengers were seen, spoke to the prophets, and represented themselves as angels of God. Jesus was God's chosen son to do the work of redeeming the earth from sin, and came as his Father's representative. He never was God, nor did he claim to be (Mark 10:17-18).
No man has heard the voice of God, for He has no voice. The "voice of God" that spoke to the disciples on the Mount of Transfiguration, and to John and those at Jesus' baptism, was actually the voice of one of God's highest angels. Other than communicating through angels or inspired writings, God works in a silent, mysterious way, through communication from His Soul to human souls.
Through His ministering angels, God seeks to turn His children to Him and have them keep in harmony with His laws in developing their natural love, or obtain at-onement with Him through the inflowing of His Divine Love into their souls in response to their earnest prayers. A person can become at-one with the Father to the extent that His Love abounds in their soul. This was what Jesus prayed for in one of his last prayers on earth (John 17:20-23).
References: Angelic Revelations of Divine Truth, Vol. 2;
http://new-birth.net/tgrabjvol3/minor213.htm
http://new-birth.net/tgrabjvol2/god1.htm
http://new-birth.net/tgrabjvol1/god4.htm

Header photo: Matthew Bowden
Sample Bible passages in support of the presented concepts:
(1) 1 John 4:8, 16: Whoever does not love does not know God, because God is love. … And so we know and rely on the love God has for us. God is love. Whoever lives in love lives in God, and God in him.
(2) Ephesians 2:4-5: But because of his great love for us, God, who is rich in mercy, made us alive with Christ even when we were dead in transgressions — it is by grace you have been saved.
(3) Psalm 47:8: God reigns over the nations; God is seated on his holy throne.
(4) Psalm 139:7-12: Where can I go from your Spirit? Where can I flee from your presence? If I go up to the heavens, you are there; if I make my bed in the depths, you are there. If I rise on the wings of the dawn, if I settle on the far side of the sea, even there your hand will guide me, your right hand will hold me fast. If I say, "Surely the darkness will hide me and the light become night around me," even the darkness will not be dark to you; the night will shine like the day, for darkness is as light to you. For you created my inmost being; you knit me together in my mother's womb.
(5) 1 John 3:1: How great is the love the Father has lavished on us, that we should be called children of God!  And that is what we are! The reason the world does not know us is that it did not know him. Dear friends, now we are children of God, and what we will be has not yet been made known. But we know that when he appears, we shall be like him, for we shall see him as he is.
(6) Isaiah 55:7: Let the wicked forsake his way and the evil man his thoughts. Let him turn to the LORD, and he will have mercy on him, and to our God, for he will freely pardon.
See also God Affirmations