This story describes another special day in God's Love. As we grow in mindfulness and sharpen our powers of observation, we will become conscious of God's Love in our lives and all around us.  Many experiences will be perceived as demonstrations of God's Love.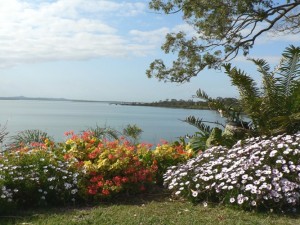 Yesterday was the day of the week I like to have a change of pace – rest out after a busy week, do some extra spiritual reading, and get out in nature. This enables me to physically and spiritually recharge and grow in awareness of God's Love. While some have primarily physical sensations in experiencing the Love, my perceptions of it tend to be through the awesomeness and beauty of nature, love and kindness of others, blessings and special help, and peace of mind. Yesterday all of these happened in one day.
As I was reading on a lounge chair in the backyard, two of the resident turtle doves came within three or four feet of me. In their special bird way, they were expressing love and affection to one another – beaks touching as if kissing and wings flapping as if in a hug. While I see these birds quite often, I found this behavior unique and couldn't help thinking of how the Creator's spirit of love (perhaps not the soul-transforming Divine Love, but love nonetheless) pervades all creation.
In the afternoon my husband and I visited one of our favorite seaside locations adjoining a Golf Club. The greenery of the sunlit golf playground, the views across the sea to the nearby islands, the cool breeze on the skin, patting an adorable labrador puppy, and the drive back in the special light of the setting sun all lifted my soul in love and gratitude to our Heavenly Father.
Mid-morning I had a pre-arranged Skype call with a recent Divine Love friend. We had emailed and read each other's forum posts for a couple of months, but this was our first Skype meeting. In the call I believe we both sensed a mutual resonance and love. I am always amazed how God and/or our spirit helpers bring a few precious people into our lives with whom we feel, in a short course of time, a special connection and kinship. I see these rare souls also as gifts of God and expressions of His love. Not only did I feel this special affinity with this person, but she also offered help with my planned trip to an upcoming retreat, which will make my long journey from Australia considerably easier.
Other highlights of the day included four loving and encouraging emails affirming my contributions to the Divine Love community. It felt like reassurance of being on track and in God's will. I think it is important that we encourage one another as we don't always see our positive impact and can get discouraged and down on ourselves.
While my husband's spiritual path is presently different from mine, I have greatly appreciated his acceptance and support of me. In fact we have learned to mutually accept and support one another and it makes for peace and harmony between us.
Today is a new day and I was inspired to capture the highlights of yesterday before they become a dim memory. May we all have more days of basking in the Father's Love as we go about our daily pursuits – some of which are of necessity material.
© Eva Peck, 2015
Photos: Alex Peck
For related experiential accounts of God's Love, see
God's Loving Care
God's Grace in Small Things
Basking in the Father's Love
Special Day in God's Love