Lessons from the "Lilies"
In Luke 12:27-31, Jesus instructed his disciples: "Consider how the lilies grow. They do not labor or spin. Yet I tell you, not even Solomon in all his splendor was dressed like one of these. If that is how God clothes the grass of the field, which is here today, and tomorrow is thrown into the fire, how much more will he clothe you, O you of little faith! (v. 27-28)
And do not set your heart on what you will eat or drink; do not worry about it. … your Father knows that you need them. But seek his kingdom, and these things will be given to you as well." (v. 29-31)
"Lilies" in Our Backyard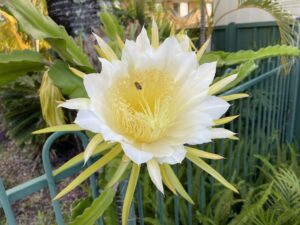 On January 17 and 18, 2022, my husband and I were blessed with amazingly beautiful dragon fruit flowers in our back yard. While, strictly speaking, not lilies, they are not too different, and perhaps even more beautiful. The lessons of Jesus' teaching certainly apply here. So what follows are some reflections on our experience and the above scripture passage.
Two to three weeks prior, five buds appeared on our dragon fruit cactus. Slowly they grew and increased in size. Three became slightly larger than the other two. Then one evening, on a full-moon night, the three opened into glorious flowers.
"Not even Solomon in all his splendor was dressed like one of these." While I cannot imagine Solomon's splendour, which impressed many in his time, including the Queen of Sheba (1 Kings 10:1-29), the splendour and beauty found in God's creation easily surpasses anything man can create, which often is only an imitation of nature.
"If that is how God clothes the grass of the field, which is here today, and tomorrow is thrown into the fire, how much more will he clothe you, O you of little faith!"
The dragon fruit flowers began opening at dusk, were fully open by about 9 pm, and by early in the morning they were still beautiful, but slowly closing. By mid-morning to noon they were closed and droopy, and by the evening, they were finished – not at all reminiscent of their magical glory just 24 hours ago.
Just like the very brief life of the flowers, relatively speaking, human life too is short. Compared to the time humanity has been on the planet – estimated to be about 200,000 years – each person has a maximum life span of about a century, i.e., 0.05% of human history, but in most cases, it is much less. Many die considerably younger – at 50-70 years of age or younger still. Visiting a cemetery, one can see graves or plaques of individuals who lived just a few days, died as children, teens, young adults, middle-aged adults, or senior citizens. All age groups are represented. No one is guaranteed a long life. The end of life can come suddenly and with no or little warning through an accident, being in the wrong place at a wrong time, or an unexpected health episode like a heart attack or stroke. Therefore it is important to make the most of our life and time while we have it. Since few know how much time they have on the earth, it is vital to make sure we use our life in the best way.
How to Avoid Worry
Many in our day and age are plagued by fear, worry, anxiety and even despair and depression. Times are hard and many are struggling. Jesus' advice to his disciples has relevance here as well. He speaks of priorities:
"Do not set your heart on what you will eat or drink; do not worry about [such things]. … Your Father knows that you need them. But seek his kingdom, and these things will be given to you as well."
Compared to the most beautiful flowers, God has a much grander and more special purpose for humans. They are the most precious and wonderful beings of his creation, with an incredible potential. If they so choose, they can receive His divine substance and nature and become His true children with an eternal future. So if He provides a beautiful attire and needs for plants and flowers, how confident and faith filled can we be that He knows all our needs and we too will be provided for in every way!
So how can we increase our faith and trust that our heavenly Father will provide when He exhorts us not to fear and worry? Indeed, it is a matter of priorities. Verse 31 gives us a specific answer: "Seek his kingdom, and these things will be given to you as well." So how do we seek God's Kingdom?
Seeking God's Kingdom
When on earth, Jesus preached the gospel (good news) of God's Kingdom. It was also the gospel of salvation (Eph. 1:13; Tit. 3:5). He told Nicodemus that the condition for seeing the Kingdom was to be born again (John 3:3). He also spoke of the Holy Spirit, which Paul in Romans 5:5 tells us brings God's Love into our hearts.
Jesus was the first to possess God's Divine Love after it was withheld from humanity when the first parents, Adam and Eve, rejected its offer. Having the Divine Love in his soul from early in his life, Jesus is the firstborn of many siblings (Rom. 8:29), and the first to have entered the Kingdom of God/Kingdom of heaven where he is now the head or master (Col. 1:18).
The new birth/salvation means to have one's soul transformed by the Divine Love from the image of God into the substance of God and to become at one with God through fully acquiring His divine nature (John 14:20; 17:21-23; 2 Pet. 1:4). Those so transformed become God's true and redeemed children who can enter the Celestial Kingdom of God.
All this happens by grace – everything for our salvation can be given to us freely by God and is available for the asking through sincere heartfelt prayer. All we need to do is graciously accept these gifts and work on increasing them in our lives – grow in the divine nature and in God's Love so that we will reach the point of full soul transformation into sinless divine beings – a totally new creation (2 Cor 5:17).
God desires humans to have a relationship with Him, not just as His created children (which we all already are), but as His true redeemed children who are becoming at one with Him and share more and more in His Divine Love and nature. To start on the journey to this special relationship, simply express your love and desire to get to know God as your loving heavenly Father and to have Him in your life. Ask Him to open your soul to the in-flowing of His Love imparted by the Holy Spirit (Rom. 5:5) to transform you. Build a daily prayer habit and maintain an ongoing relationship with God, asking for guidance, mercy and His Love as often as you can.
As time goes on, you'll notice a self-transformation. Your desires will change and become more spiritually oriented. Things and values of the world will become of less and less interest and importance. You'll become more kind and loving. More peace will be yours. You may also feel sensations in your heart region which is connected with or a doorway to the soul. You may become aware of spiritual gifts to serve others. All this and other positive changes are evidence of you becoming a new creature/creation (2 Cor 5:17), of having a heart change (spiritual heart transplant if you will), of moving toward the new birth that Jesus talked to Nicodemus about (John 3:3). It is a process that in due time will culminate in a full transformation into a divine being and a place in the Kingdom of God with never-ending opportunities for further growth in love, joy and closeness to your heavenly Father.
Retrospective Reflection
A year ago, in 2021, the same dragon fruit plant also had an unprecedented number of flowers. It produced two flowers on New Year's Day, then two again on February 1 and then, two sets of two flowers over two days at the end of February, on full-moon nights. The timing seemed more than a coincidence. It certainly was a very special start to the year.
But in other ways, the first half of the year proved challenging. My husband was unwell with heart issues and blood poisoning requiring three knee surgeries to remove infection, and ended up with three hospital stays between early February and mid-March, amounting to almost a month, followed by another month on antibiotics. (He missed seeing the double set of flowers). I too got sick just before he came home from the last hospital stay. We went through two to three months of convalescence before getting our energy and interest in life fully back. Throughout it all, however, we were strengthened, helped and provided for in multiple ways. Loving neighbours brought food, mowed our lawn, offered transport, and helped in other small ways as needed. Even though we went through a challenging time, we were helped and lacked nothing.
We don't know what 2022 will bring with the world more immersed in the COVID pandemic than in the past two years, discrimination against the unvaccinated increasing, individual choices and freedoms rapidly eroding, media propagating misinformation and generating confusion, climate and earth changes causing weather, volcano and earthquake disasters around the world, dangerous tensions rising among nations, increasing nuclear arsenal, and more.
Whatever the year will bring, may we always remember the lessons from the "lilies", or in our case, the even more glorious dragon fruit flowers that we were blessed with: "If that is how God clothes the [flowers], which [are] here today, and tomorrow [they wilt and die], how much more will he clothe you, O you of little faith! And do not set your heart on what you will eat or drink; do not worry about it. … your Father knows that you need them. But seek his kingdom, and these things will be given to you as well." (Luke 12:27-31, adapted)
(For more on this topic, go here. To see a picture gallery of the flowers, click here. For more information on dragon fruit, go here.)
© Eva Peck, 2022
Photos: Eva Peck