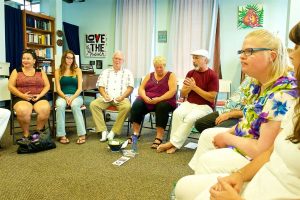 Praying with others for the Divine Love (and/or other needs — one's own or those of others) perhaps once a week in addition to your personal prayers, can be an inspiring and powerful experience.
Several groups meet for prayer and fellowship locally in various parts of the world. Those who are too far to join a local group may be able to connect with others simultaneously over distance. There are established groups utilizing modern technology such as Skype. The possibility of starting a new group always exists — either locally or via Skype.
So if you would like to start praying and experiencing spiritual fellowship with others by joining an existing group or starting your own, the following references may help.
Existing local and Skype groups, together with contact details are shown at the calendar on the bottom of this page: http://divine-love-sanctuary.ca/
Ideas and guidelines for how a prayer circle might operate are at http://new-birth.net/spiritual-subjects/circles-of-light/
Each prayer group is unique and its nature will depend on individual personalities, spiritual maturity of participants, local culture, and other factors. Among the most important elements for the success of a prayer group are a focused intent, positive attitude of love and goodwill, healthy spiritual condition, tolerance of personal idiosyncrasies and varying beliefs, and mutual respect and courtesy.
For more specific inquiries, feel free to contact this website.
Related articles on this website:
Photo by Allan Forest
by