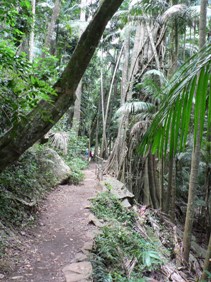 I believe that some of us are called onto a "path less traveled" within the already narrow spiritual path – a unique path, perhaps just a narrow trail that is intertwined and winding within our somewhat unusual experiences and events in life. Sometimes it is only retrospectively that we can see the path we have traversed and can't help but marvel at what God has done. At the same time, we can't help but wonder what is yet ahead. Right now I seem to be at such a point.
My spiritual path appears to have run in roughly eight-year cycles. The first two, I grew up as an atheist child and teenager in Czechoslovakia, at that time a Communist country, where few people were believers and church attendance was discouraged. Even my two years in Sweden and getting inadvertently confirmed – not knowing enough Swedish or the Bible at the time to understand what I was doing – didn't do much to change this.
God started working with me during the next eight years, at a very low point in my life, and called me to conversion through a non-mainstream church in Victoria, Australia, which provided me with a good spiritual foundation. God gave my life a hope and purpose, and connected me with a loving spiritual community, through which He provided my life partner and soulmate, Alex.
Alex and I worked side by side for a church we were very dedicated to in California, USA during the next roughly two eight-year cycles. While most others of our age group were raising families, our combined focus for 17 years was God's Work.
The next eight years found us back in the former Czechoslovakia, now the Czech Republic. In November 1989, Communism had fallen, so it was safe for me to go and visit in 1990. From this visit came the idea and desire of moving there to live. After three years of earnest prayer and deliberation, when our work for the church in California was coming to a natural end, this desire came to fruition. God had placed us in a little village close to a small town, which was a big contrast to having lived in the very urban Los Angeles area.
A year after we left the USA, a significant earthquake shook the LA area. Later that year, our church too was shaken through a massive change of direction and teachings. Understandably, this caused great trauma for many and resulted in a major split. In his mercy, God had moved us to the edge of the storm, so to speak, though of course, we couldn't totally escape it. Yet, the Czech Republic was a definite refuge and also an opportunity to get to know other Christians, in this case, Seventh Day Adventists with whom we fellowshipped in a home church, and Catholics, several of whom we got to know as personal friends. These experiences taught me to be less judgmental of those with other spiritual views.
When my mother unexpectedly passed away in early 2001, another turning point came and a new cycle started. For some months before then, we began to sense a leading to return to Australia, but the specific destination only crystallized when we learned of my mother's passing. It became obvious to come to Queensland to be available to my now widowed father.
We were at an age when it was difficult to get into the Australian job market after so many years away, but six months later, a lovely door opened to teach English in Korea. For nearly four years we taught at a Christian University. After that we spent another year in Saudi Arabia.
While still overseas, during our Korea years, we were privileged to be able to come home twice a year to spend time with dad, which was a good transition to eventually coming back and staying for good. This was a slightly shorter cycle of six years, when we were exposed to members of yet other Christian groups, as well as Buddhism and Islam.
Since returning from teaching overseas, I am at the end of another eight-year cycle. I have been privileged to work for God full-time on the home front, having my own writing ministry (that has in part overlapped with Alex's writing ministry) – for which God has miraculously provided the financial means. This period has been in some ways a mix of a desert experience with a number of lush oases as far as fellowship with like-minded brethren. It has also been a time filled with accomplishment and growth in insights and wisdom through a formal study course as well as personal wide reading.
During this time I completed an MTh, been introduced to Catholic spirituality – both through reading and on the ground – and further broadened my perspective by being exposed to Christian meditation and Buddhism. I created several websites, wrote/co-wrote and published a number of spiritual books, as well as published books featuring my father's art, photography, and Czech poetry.
For a short period, I reconnected with my old church through one of its numerous offshoots that resulted from the split. This was like one last visit to the old spiritual home, the purpose of which has been accomplished. I spent time with old friends, reconnected with others, and learned what yet others have been up to. It was like leafing through an old album and then closing it again for the foreseeable future and returning to the present. Yet, I am very grateful for the 25 or so years of active involvement during my early to middle adulthood. It gave me an excellent spiritual foundation.
A seemingly small but significant incident, no doubt divinely inspired, led me to realize around March 2014 that I needed to move on. The church has progressed over the years, but in a lot of ways remained the same, and I was no longer on the same page. A book I was lent, Life in the World Unseen, a mediated work by Anthony Borgia, widened this gap even more. It indirectly led me to the mediated messages received by James Padgett, focusing on the importance of Divine Love.
Mediumship was something I was uncomfortable about due to past conditioning, but the content really resonated with me and made sense. I kept reading and summarizing the information for my website, and connected with a number of Divine Love followers in Australia.
In early October 2014, I contacted FCDT and applied for membership. This has been a definite and dramatic turning point. It included developing a number of special friendships, being affirmed and encouraged in my God-given gifts, most of which I was aware of, but not fully, involvement in church projects, and more. I sense myself growing in the Divine Love and being used by God in a new way with people feeling and responding to the Love within, as well as recognizing and appreciating my God-given gifts, insights and wisdom.
If my life has run in roughly eight-year cycles, I am now at the beginning of another one and wonder what God has in store for this year. I feel excited, empowered and ready to continue my involvement in projects where I can use my talents. I intend to keep close to God, seek His Will, pray for His Love, and be open to opportunities where I can be of service.
© Eva Peck, 2015
by