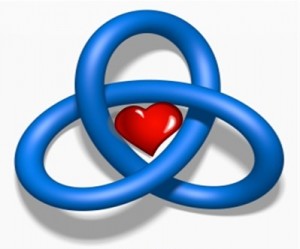 Here are a number of classical writings showing various love aspects and the height and breath of love — especially Divine Love.
The Apostle Paul — St. Paul's Letter to the Corinthians (1 Cor. 13:4-8):
Love is patient, love is kind.
It does not envy, it does not boast, it is not proud, it is not rude, it is not self-seeking, it is not easily angered and it keeps no record of wrongs.
Love bears all things, believes all things, hopes all things, and endures all things.
Love never fails.
The Buddha's Words on Loving Kindness (Keraniya Metta Sutta)
This is what should be done by one who is skilled in goodness, and who knows the path of peace:
Let them be able and upright,
Straightforward and gentle in speech.
Humble and not conceited,
Contented and easily satisfied.
Unburdened with duties and frugal in their ways.
Peaceful and calm, and wise and skillful,
Not proud and demanding in nature.
Let them not do the slightest thing
That the wise would later reprove.
Wishing:
In gladness and in safety,
May all beings be at ease.
Whatever living beings there may be;
Whether they are weak or strong, omitting none,
The great or the mighty, medium, short or small,
The seen and the unseen,
Those living near and far away,
Those born and to-be-born,
May all beings be at ease!
Let none deceive another,
Or despise any being in any state.
Let none through anger or ill-will
Wish harm upon another.
Even as a mother protects with her life her child, her only child,
So with a boundless heart should one cherish all living beings:
Radiating kindness over the entire world
Spreading upwards to the skies,
And downwards to the depths;
Outwards and unbounded,
Freed from hatred and ill-will.
Whether standing or walking, seated or lying down free from drowsiness, one should sustain this recollection. This is said to be the sublime abiding. By not holding to fixed views, the pure-hearted one, having clarity of vision, being freed from all sense desires, is not born again into this world.
Eileen Caddy's Inspiration about Divine Love
Let My love infiltrate and enfold each one of you
so that you live and move and have your being in it,
so that it lives and moves and has its being in you and
that you are aware of this wonderful oneness
and a complete blending together.
When you are infilled with My Divine Love
you can do anything and can go anywhere.
You are motivated by the very highest
and everything falls into place in true perfection.
There is a right time and season for everything.
Be still and behold the unfolding of My vast and glorious plan.
It is already there on the higher planes waiting to be brought down to earth;
and now is the time for this to take place.
Now is the time for these most wonderful changes to come about,
so be prepared for anything at any time.
When love walks in and is recognized,
all dislike, intolerance and hatred walk out for they cannot dwell in the same place.
They cannot mix any more than oil and water can mix.
Fill your hearts and minds with love, love for one another, love for Me,
and there will be no room for anything negative or inharmonious to disturb or disrupt
that wonderful flow of peace, love and harmony within you
which creates love, peace and harmony without;
for that which is within is reflected without.
Your inner spiritual life cannot be hidden.
It is revealed not in many words, not in actions, but in your whole being.
The very atoms of your being are affected by love.
Everything and everyone responds to love,
for love draws the very best out of all
and where love is, there My spirit is;
and where My spirit is there is the source of your spiritual life."
(Eileen Caddy in The Dawn of Change, pages 54-55.)
Love and Beauty
You are surrounded by beauty everywhere.
Open your eyes and see it and give constant thanks for it.
Let the things of beauty transform you and inspire you
to your highest and best.
Beauty draws the very best out of and unites you with the highest.
The beauty that is within you cannot be contained ….
it will be reflected without; let it shine forth.
Fill your heart and mind with beautiful thoughts
and reflect Me for I am beauty.
Look for the beauty in everything,
and when you look deep enough and long enough
you will see it.
Rise above the sordid ugly things in life,
for by rising above them you can help transform and transmute them.
Beauty is in the eye of the beholder, therefore it is deep within you.
Go forth this day determined to see beauty
in everyone and everything and you will do so.
Love and beauty go hand in hand.
So let My universal love flow freely in and through each one of you,
bringing unity and oneness.
As each one of you opens your heart and keeps the love flowing
this will come about;
for the more love there is between all of you
the greater will be the unity and oneness.
I say to you over and over again, 'Love one another'.
This does not mean that you are to tolerate one another,
or try very hard to love one another;
but you will find when you open your hearts
and can fill them with loving, beautiful thoughts
that you will want to love all those you come into contact with
no matter who they are.
This is the free flow of My universal love which knows no discrimination
and does not pick and choose who is going to be loved and who is not.
My love is the same for each and every one.
How much you are willing to accept is up to you.
You can be infilled with My wondrous love,
or you can shut it out of your lives;
it is simply up to you.
It is always there waiting for you when you are ready for it.
This is what is taking place at this time.
There is a wonderful opening up and acceptance of My love
which brings you all closer together, uniting you in oneness.
Be not afraid to express this love;
it is beyond personality, it is one of the highest.
There is nothing possessive about it,
for possessive love stifles and kills; it shuts out My divine love.
My universal love grows and grows.
It includes everyone, it possesses no one,
and yet all are one in it, all feel part of it.
It enfolds all because it is the allness of all – all inclusive.
Learn to wear you heart on your sleeve
and never be ashamed to demonstrate your love for one another.
Love is the greatest uniting factor in the universe,
so love, love, love.
From: Footprints on the Path by Eileen Caddy, p. 17-19.
Eileen Caddy was a spiritual teacher and new age author, best known as one of the founders of the Findhorn Foundation community at the Findhorn Ecovillage, near the village of Findhorn, Moray Firth, in northeast Scotland.)
Contemplation on Love by Nyanaponika Thera
Love, embracing all beings, be they noble-minded or low-minded, good or evil. The noble and the good are embraced because love is flowing to them spontaneously. The low-minded and evil-minded are included because they are those who are most in need of love. In many of them the seed of goodness may have died merely because warmth was lacking for its growth, because it perished from cold in a loveless world.
Love, but not the sensuous fire that burns, scorches and tortures, that inflicts more wounds than it cures — flaring up now, at the next moment being extinguished, leaving behind more coldness and loneliness than was felt before.
Rather, love that lies like a soft but firm hand on the ailing beings, ever unchanged in its sympathy, without wavering, unconcerned with any response it meets. Love that is comforting coolness to those who burn with the fire of suffering and passion; that is life-giving warmth to those abandoned in the cold desert of loneliness, to those who are shivering in the frost of a loveless world; to those whose hearts have become as if empty and dry by the repeated calls for help, by deepest despair.
Love, that is a sublime nobility of heart and intellect which knows, understands and is ready to help.
(Nyanaponika Thera or Nyanaponika Mahathera was a German-born Sri-Lanka-ordained Theravada monk, co-founder of the Buddhist Publication Society, contemporary author of numerous seminal Theravada books, and teacher of contemporary Western Buddhist leaders such as Bhikkhu Bodhi.)
Thomas à Kempis on The Wondeful Effect of Divine Love
Love is an excellent thing, a very great blessing, indeed. It makes every difficulty easy, and bears all wrongs with equanimity. For it bears a burden without being weighted and renders sweet all that is bitter. The noble love of Jesus spurs to great deeds and excites longing for that which is more perfect. Love tends upward; it will not be held down by anything low. Love wishes to be free and estranged from all worldly affections, lest its inward sight be obstructed, lest it be entangled in any temporal interest and overcome by adversity.
Nothing is sweeter than love, nothing stronger or higher or wider; nothing is more pleasant, nothing fuller, and nothing better in heaven or on earth, for love is born of God and cannot rest except in God, Who is above all created things.
One who is in love flies, runs, and rejoices; he is free, not bound. He gives all for all and possesses all in all, because he rests in the one sovereign Good, Who is above all things, and from Whom every good flows and proceeds. He does not look to the gift but turns himself above all gifts to the Giver.
Love often knows no limits but overflows all bounds. Love feels no burden, thinks nothing of troubles, attempts more than it is able, and does not plead impossibility, because it believes that it may and can do all things. For this reason, it is able to do all, performing and effecting much where he who does not love fails and falls. …
If a man loves, he will know the sound of this voice. For this warm affection of soul is a loud voice crying in the ears of God, and it says: "My God, my love, You are all mine and I am all Yours. Give me an increase of love, that I may learn to taste with the inward lips of my heart how sweet it is to love, how sweet to be dissolved in love and bathe in it. Let me be rapt in love. Let me rise above self in great fervor and wonder. Let me sing the hymn of love, and let me follow You, my Love, to the heights. Let my soul exhaust itself in praising You, rejoicing out of love. Let me love You more than myself, and let me not love myself except for Your sake. In You let me love all those who truly love You, as the law of love, which shines forth from You, commands."
Love is swift, sincere, kind, pleasant, and delightful. Love is strong, patient and faithful, prudent, long-suffering, and manly. Love is never self-seeking, for in whatever a person seeks himself there he falls from love. Love is circumspect, humble, and upright. It is neither soft nor light, nor intent upon vain things. It is sober and chaste, firm and quiet, guarded in all the senses.
From The Imitation of Christ, Book 3, Chapter 6.
Thomas À Kempis, original name Thomas Hemerken, born 1379/80, in Germany, died 1471 in the Netherlands, was a Christian theologian, the probable author of Imitatio Christi (Imitation of Christ), a devotional book that, with the exception of the Bible, has been considered the most influential work in Christian literature.
For insights into other aspects of love, check Types of Natural Love

Related Articles on this site: